Timelapse: An Image Analyser for Camera Traps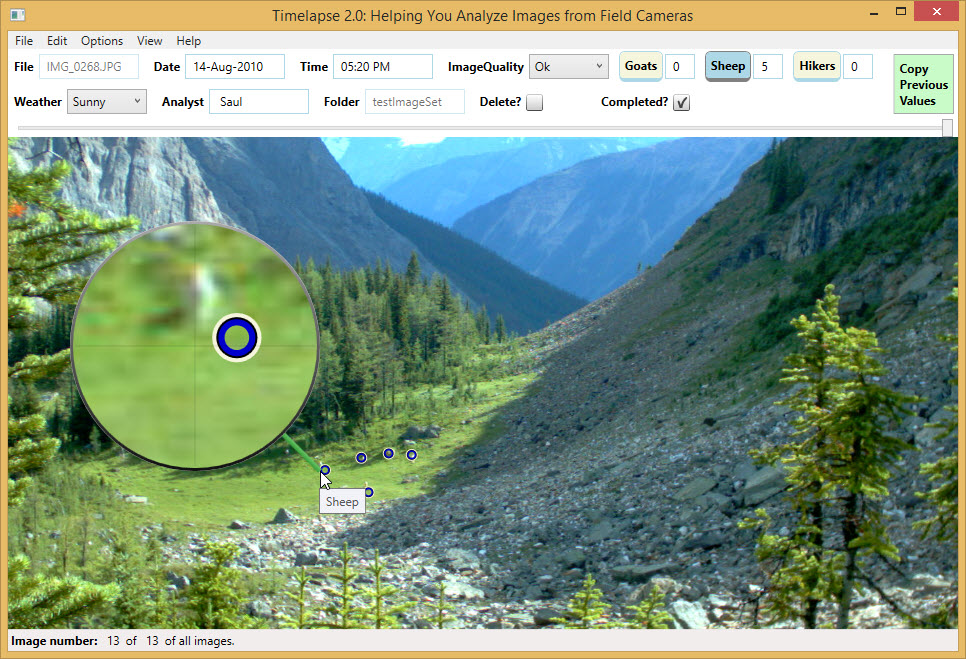 Field cameras (also called camera traps) capture images (and sometimes videos) of strategic field locations at regular intervals or when any motion is detected. After retrieving the camera's images, scientists visually examine each image and video and count/describe the entities and conditions of interest (e.g., people, wildlife, weather).
The problem is that visually analyzing and encoding data from thousands to millions of images and videos is a painful process.
Timelapse Image Analyser helps scientists do this last visual analysis and encoding step. In brief, the tool:
Getting started is fairly simple
Further readings
Independent articles concerning gaines in efficiency when using Timelapse and Megadetector
The practical benefits of Timelapse and Megadetector in practice
A controlled study of the efficiency gaines by Megadetector
Timelapse Image Analyzer was created by Saul Greenberg, a University of Calgary, Computer Science professor, and is supported by Greenberg Consulting Inc.
Contact Saul Greenberg for feature requests, bug reports, and general feedback.

Acknowledgements and attributions. Many Timelapse users provided feedback on how to improve Timelapse - they really helped inform the system design. Micah Bresette, Ryan Bane, and Todd West contributed to upgrading the Timelapse code base. Timelapse incorporates various components that others have produced and made freely available: they deserve special thanks. See the Timelapse License page, which contains a list of these components and where they are from.
174251:33462